Green­peace Aus­tralia Pacif­ic: the wel­come process
Exhibited by

Chris Washington-Sare and Christiana Stergiou

Added

February 27, 2010
Medium of Communication

Direct mail, online, telephone.

Target Audience

Individuals, planned gift.

Type of Charity

Environmental/animals.

Country of Origin

Australia.

Date of first appearance

2009.
SOFII's view
Have you taken a moment to think objectively about the experience a new donor has within the first few months of joining your organisation? What do you send them? Is there a plan? Do they receive the right messages, or just
whatever you've scheduled at the time?
Greenpeace Australia Pacific has developed a new and simplified process to ensure that new donors receive clear communications that both thank and further engage them. The result is that they're reducing the number of donors who leave within the first three months. Now that's fundraising – and it's something that many organisations can easily adapt and adopt.
Creator / originator
Chris Washinton-Sare, Stef Kessler, Paulie Georges, Kristen MacDonald, Manuel Gomez, the agency, Blend Marketing.
Summary / objectives
The primary objective in any welcome process, as it was in this case, is to reduce the number of new donors who stop giving to the organisation (also known as preventing donor attrition or improving retention).
It was important, as part of this objective, to make donors feel valued and that their contributions are making a difference. And because Greenpeace is an activist organisation, it was also an opportunity to cultivate relationships with supporters that encouraged greater levels of non-financial engagement.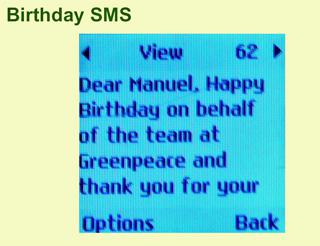 Greenpeace also includes other personal touches throughout the year. All supporters who have provided their mobile phone number receive a birthday SMS. Early reports are that this is significantly reducing cancellations.
Background
Greenpeace Australia Pacific has a significant number of regular givers who support the organisation every month with automatic donations (direct debits), through their bank accounts or credit cards. Greenpeace predominantly recruits people to this type of giving using face-to-face canvassers out in the community. A smaller group is recruited through direct mail or online appeals.
It's not easy to acquire new regular monthly givers. It's good fundraising to do everything you can to keep your existing donors, rather than having to replace them when they stop giving to you. So it's a constant challenge to ensure that new donors keep giving for as long as possible. And, in particular, it's important to prevent them from discontinuing their gifts in the first three months of their monthly commitment, which is often a time when they are most likely to cancel their gift.
In fact, over the last few years, approximately 30 per cent of Greenpeace Australia Pacific's monthly donors cancelled their gifts in the first three months. By stemming the early cancellations, Greenpeace identified that it could keep more of its new regular donors for longer, thus increasing the funds it raises.
For Greenpeace, the challenge was to develop a clear and effective welcome process to engage their supporters, encourage them to keep supporting the organisation through monthly donations and get them to take other action to help the environment.
Special characteristics
Firstly, Greenpeace mapped the supporter journey to understand what new donors received from the organisation in the first three months.
Initially, when donors first signed up to monthly giving on the street, they received a calico bag with an ad hoc collection of brochures and items. The contents of each bag really depended on what was on the shelves at the time. Secondly, the donor received a postcard from the canvasser who signed them up.
A welcome brochure was sent once the first payment was processed (up to five weeks after the initial sign up). Then, within six weeks, all new monthly donors (face-to-face and direct mail donors) received a welcome telephone call.
When analysing this, the team noticed that donors who received these welcome calls were more likely to stop giving (44.2 per cent who received a call cancelled in the first 12 months, as opposed to 38.6 per cent of those who didn't get the phone call). It was clear that rather than retaining donors the call was reminding them to discontinue.
Greenpeace then developed and implemented seven communication principles:
During the first month of a supporter's life with Greenpeace, the welcome process takes precedence over all other communications.
All new regular (monthly) donors who have an email address automatically start receiving regular monthly e-newsletters from day 28.
A concerted effort is made to capture mobile phone numbers – they are as important as email addresses.
Consistent opt-in/opt-out statements are used on all materials (so that donors can choose not to receive certain communications).
The first issue of the supporter magazine is not sent until after receipt of the welcome pack.
The first regular monthly e-newsletter is not sent until after receipt of the welcome email.
Greenpeace takes the first payment on or around ten days from sign up.
Influence / impact
Having such a clear welcome process has made it very easy for staff and Greenpeace has automated each action, where possible. Actions are triggered a certain number of days after the previous action, or on particular dates, for instance the donor's birthday.
There is no longer a backlog of fulfilment, which means the office is less cluttered and staff can respond to donor queries more swiftly.
Test details
It would have been cumbersome to split test two welcome processes at the same time. A decision was taken to move to the new welcome process in one leap as it was thought the risk of failure was relatively remote. Thankfully this assumption proved correct.
Costs
The cost per donor has reduced significantly. The old welcome process cost AUD 13.54 per supporter. The new process costs AUD 8.52 per supporter. A large proportion of the cost savings are because the welcome call has been dropped.
Results
The immediate results have shown that cancellations within the first three months have been reduced by 36 per cent. In 2008, 23.3 per cent of donors cancelled within first three months, while in 2009, only 14.9 per cent have cancelled.
In addition, 43 per cent of new supporters are being debited for their donation in the first month, as compared with 25 per cent under the previous system. This means more money for Greenpeace, sooner.
Greenpeace staff are getting welcome packs out to donors sooner. Most donors are getting their pack within 17 days, rather than the over 25 days it used to take That's building a stronger relationship, sooner.
Merits
This is a clear and simple welcome process that many organisation can adopt and adapt.
Other relevant information
The development of the new welcome process was successful for three reasons:
We set clear and unambiguous objectives.
We created a team dedicated to delivering the project on time and to budget.
We implemented the project in stages ensuring key stakeholders we consulted at every point.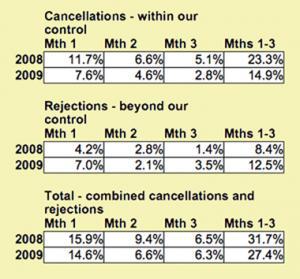 Overall we have reduced the cancellation rate from 23.3 per cent to 14.9 per cent. Credit card rejections have been a problem and we can see attrition as a result of rejections has increased from 8.4 per cent to 12.5 per cent. This is beyond our control as it is dictated by the whims of the banks and card issuers. However, even taking the skewed rejection rate into account the overall average attrition rate has reduced from 31.7 per cent to 27.4 per cent.