From the Myth Smash­ers: Guess what? Mid val­ue donors are not major donors in disguise!
Just like the cliché of the mid­dle child, mid val­ue donors can some­times be for­got­ten, ignored, or swept up in oth­er seg­ments. But
2023

Myth Smash­ers win­ner Kate Rule believes that mid val­ue donors are not major donors in dis­guise! Keep read­ing to dis­cov­er why Kate wants fundrais­ers like you to rethink your stew­ard­ship strat­e­gy for mid val­ue donors.
Written by

Kate Rule

Added

October 21, 2023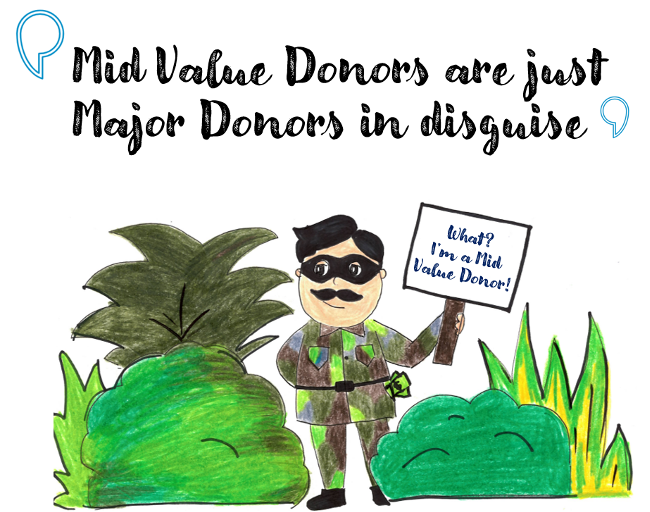 Have you ever been a believer of the myth that the only purpose of a mid value donor is for the major donor potential that lies within them?
I have, and I've been guilty of skimming past this group of donors and focusing on those big gifts that walk through the door, or that big pool of single givers who I can communicate to en masse through an appeal or EDM (email/electronic direct mail).
'It's a bit too hard to focus on the middle', I've thought. And anyway, who has the capacity to pay them attention?
It's not all bad to be stuck in the middle
Here's the thing, being in the middle gets a bad rap. We often correlate being in the middle with something less than ordinary…
The middle seat on the plane? A thing of my nightmares. I'm checking in online the second it opens so I can get my window seat!
The middle finger? Um, rude.
The middle of a donut? Pfft.
The middle child? The brunt of a lot of jokes, but a firm favourite of mine. Stick with me and I'll tell you why.
The hottest buzz words in this era of fundraising are … mid value donors.
For a very long time, these donors weren't considered their own segment within an individual giving programme. The focus has generally been:
The single giver in one box
The regular giver in one box
And the major donor in one box
And let's be honest, if we have a shred of fundraising knowledge we are all working on how to get these donors to leave us a bequest.
Just like the cliché of the middle child, these donors are somewhat forgotten, ignored, or swept up in the other segments. In fact, they aren't even on the traditional donor pyramid: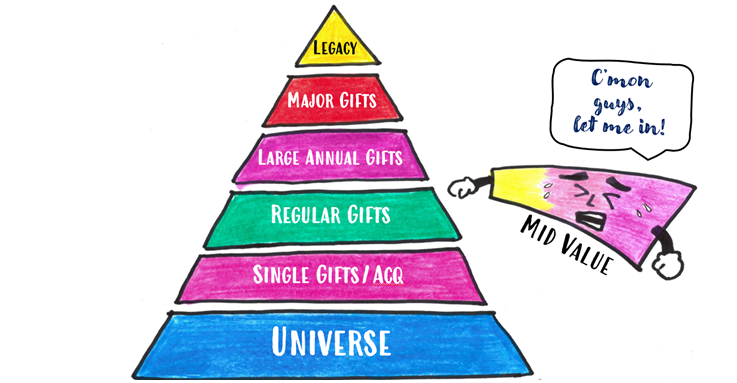 But here lies the myth. A myth most of us have heard so many times before. That once a person donates at this level, surely they have 'the capacity to donate more'.
'The capacity'
That word gets thrown around a lot in our sector. And for good reason, as we as fundraisers are vying for much-needed funds for our cause. We look at a mid value donor and think that for the right project or the right proposition, they'll become a major donor.
So, what to do with these donors? It's exciting to see a significant gift of AU$2,000, $3,000 or $5,000 come through to your organisation. A fundraiser may even say:
'Ring the bell!'
'Time to celebrate!'
'Quick! Pass it on to the Major Gifts Manager! Surely this is a major donor in disguise!'
'Here comes the transformational gift!'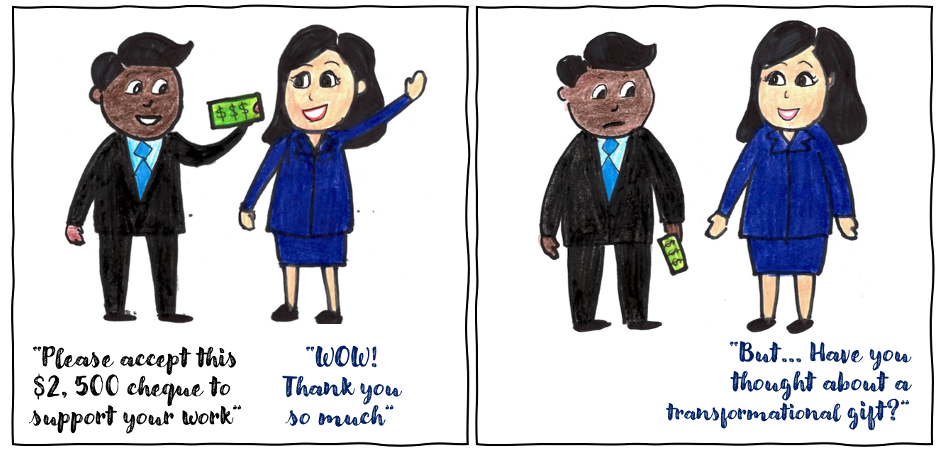 But… In reality, how many of these transformational gifts are realised?
Okay yes, we all have stories of the beautiful donor who gave AU$25, then $500, then $5,000 and later gave an astronomical gift because they were shown love, attention and was stewarded up to a major ask. That happens and it's wonderful.
But what about the rest?
Mid value donors usually make up less than five per cent of a non-profit's individual giving donor base, yet they can contribute as much as 20 per cent of your individual giving revenue. And their value is growing.
So, why on earth would we ignore our middle children?!
There are around 450,000 donors out there donating more than $1,000 annually to their chosen charities. At Royal Flying Doctor Service (Queensland Section), we consider $500 - $10,000 single gifts as a mid value donation.
Now, take a moment and think if you, or someone you know well, could comfortably give a single gift of $500 to a charity this year. I'd hedge a bet and say there's a few.
On the flip side, have a think about whether you, or your friends have the capacity to donate $200,000 as a single gift.
We all know what they say about assumptions, but I'm guessing if you're reading this, you're a fundraiser, and I think it's safe to assume a transformational gift is probably out of reach.
So, why would we choose to ignore these supporters giving $500?
Well, I have a few theories.
They're not an overly researched group. It can be hard to understand the donor and their motivations as a cohort.

It can be a struggle to pitch to decision-makers on the value of retaining this group of middle children. This will mean additional resources, treatment or an increased caseload for Relationship Managers.

They're seen as an enigma, perhaps the gifts are assumed to be random.
But as it turns out, no, they're not an enigma. Here's why:
Research shows that mid value donors give on average 45 times more than other donors in the individual giving pool.
The number of donors identified as mid value has grown significantly in the last five years.
They're usually planned, annual gifts, and they're willing and able to donate a significant amount consistently for a long time.

They're driven by both head AND heart. They're investing in your cause because they feel connected to it.
They are usually some of your most loyal, leading to incredible lifetime value.
They're likely to be more personally involved and your biggest advocates.
They have great potential to be the source of your future bequests.
And okay, I admit it, sometimes this is their pathway to a transformational gift. Note the emphasis on that word sometimes.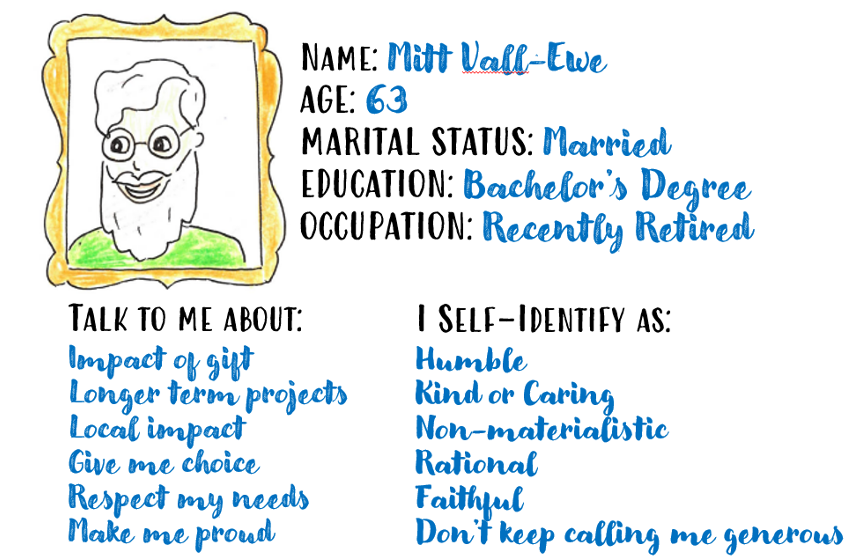 In fact, the 2023 Benchmarking Project identified just over eight per cent of mid value donors dive into that major donor space.
But that doesn't mean they wouldn't enjoy a conversation, a thank you, a token of appreciation, or a spirited discussion on their favourite part of a King Air B360 Aircraft (okay, maybe that's just how my conversations go – but you get the gist).
Because, with some love and admiration, this relationship can blossom into a mutual friendship for life.
Look, it's probably still relatively new for a lot of us.
How many times have you been tasked to woo the donor in (hello, acquisition campaign!) with a promise of doing something good (hello, slick initial donor journey!), and then accidentally ignore them to the point that they leave (hello, 'other priorities'!)
They are ignored because it can be really hard to find the time and resources to let good donors know that they are appreciated.
But the results aren't that nice to think about. Because donors leave, and they leave at outrageous rates. The average donor retention rate for first-time donors is 20 per cent in their first year. That's a whopping 80 per cent churn rate.
Contrast to this, a donor who is properly taken care of and inspired to repeat their donation retains at roughly 60 per cent. This means that if you can get a new donor to make just one more donation, the chance that they will continue donating rises by 40 per cent.
All of this affects the bottom line in a significant economic way.
And there is strong data that supports the theory that retention increases as value increases, so this further justifies a need to bring the human factor into retention activities, particularly in cohorts that are giving in a higher bracket as they retain at an even higher rate.
Hey! You! You're special.
Back to the mid value supporter. My role, dear reader, is to purely look after our mid value donors with focus on connection, engagement, and retention. It's the first role of its kind for the Royal Flying Doctor Service (RFDS), the result of a big picture strategic look into future growth capacity for the organisation.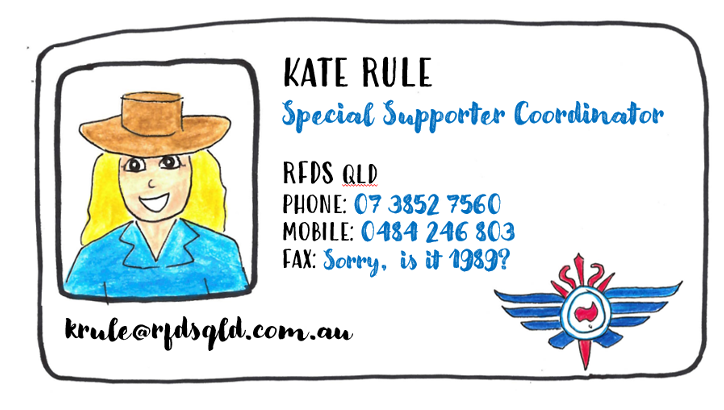 I saw the role title on the job ad…'Special Supporter Coordinator'
Intriguing, right?
On reading the position description (PD), this was obviously a role for a mid value donor specialist. Like me, you may be curious as to why would they title it Special Supporter Coordinator. Surely Mid Value Relationship Manager or Mid Value Advisor makes more sense?
But in reality the title conveys what RFDS want the supporter to feel.
Not only for what they could be, but just the way they are.
I can't tell you how great it feels to introduce myself to these donors who may have never received a phone call – from us, or any charity - to say I'm here to talk to special supporters like you.
Not to mention the fact it makes it much harder for them to hang up on me. 😉
These donors are not just major donors in disguise, and in fact they deserve their own programme because of the incredible value they bring as a cohort on their own.

Has anyone checked on the middle child?
So, hopefully I may have convinced you to rethink your stewardship strategy for your middle children.

don't be on a race to push donors up the pyramid and give that transformational gift
recognise that every gift is transformational in the eyes of the donor
don't hold onto the myth that they're major donors in disguise

Mid value donors are not in disguise, take a look - they're right there, and take it from me, you may be overlooking them. Why not get to know them and understand their why.

IMAGES: © All images supplied (and drawn!) by Kate Rule