EveryChild Gift Aid ​
'

mop-up' campaign
Exhibited by

Matthew Sherrington.

Added

April 08, 2014
Medium of Communication

Direct mail, telephone.

Target Audience

Type of Charity

Children, youth and family, international relief/development.

Country of Origin

UK.

Date of first appearance

2009.
SOFII's view
It's astonishing to learn that 40 per cent of UK charities are not claiming all the Gift Aid that they can. If your charity is one of the guilty, this simple mailing from EveryChild will show you how you can raise a lot of money just by getting your donors to tick a box. It is that simple.
Creator / originator
Matthew Sherrington/EveryChild.
Summary / objectives
At a moment when the rules on claiming Gift Aid on donations were about to change (reducing the time period allowable from six to four years), EveryChild took the opportunity to do a Gift Aid 'mop-up' mailing, to reclaim tax for donations made by donors who had not yet given their consent to do so.
Background
In the UK, charities can claim back the income tax paid by donors as Gift Aid (unlike some other countries, where the individual can claim the tax deduction). It is worth an extra 25 per cent and simply requires donors to confirm that they pay tax and wish the charity to claim the tax. This requires an opt-in box to be ticked and a signature. Usually, this happens at the time of making the first gift, but enough donors who qualify don't do this, which can make it worthwhile to do mop-up mailings as a Gift Aid declaration covers four years retrospectively, as well as all future gifts.
This was a particularly successful campaign, with the mailing component achieving over 80:1 ROI from a 33 per cent overall response rate, since EveryChild was able to ask for tax back over six years from child sponsor donors giving over £15 a month.
Special characteristics
The nature of a Gift Aid mop-up campaign is that donors do not have to give anything, they simply need to give permission. It is an administrative request, which can be boring.
This was an extremely low-cost mailing, conceived, produced and packed in-house. It was followed by telemarketing.
To make it appealing and effective, this campaign
Was witty, making a joke about 'freeing' money from the tax man. The outer envelope line 'has the tax man got some of your money? with the inside heading adding '... waiting to help more vulnerable children'.
It made the offer very specific by laser-printing the exact personalised amount of tax that EveryChild might be able to claim based on the donor's giving history. In some cases this came to hundreds of pounds.
Talked about the difference that money would make, not just the financial benefit to the charity.
Provided a clear and simple action – 'tick the box' – repeated through the letter.
Details
None, except that the results of the first mailing and telemarketing campaign were so exceptionally good it was decided to do a reminder mailing (which was identical to the first) and follow-up telemarketing to that too.
Results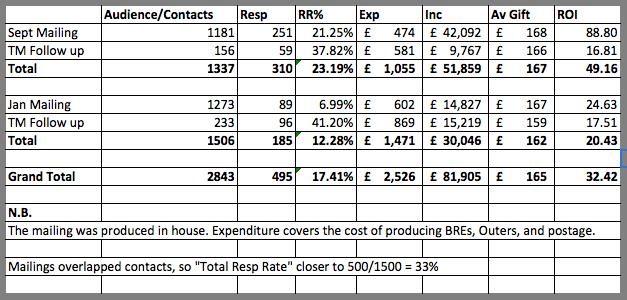 Here are the excellent results from this campaign.
Merits
First: because recent reports suggest 40 per cent of UK charities don't claim Gift Aid at all. This is a huge wasted opportunity. For any charity, reclaiming tax on donations going back the last four years could be a huge windfall. So hopefully this will encourage more charities to bother.
Second: because the result (33 per cent response overall) to an administrative letter suggests that the offer and creative both hit the mark.The ROI was exceptional, but this campaign did go primarily to child sponsors, giving on average over £180 a year. The average Gift Aid claim was £165 per response.
Third: it was done in-house at low cost. Written internally, printed and enclosed by the supporter care team, the only costs were for the envelopes and postage and the follow-up telemarketing campaign. It was also done very fast in response to a spotted opportunity and gave a young team confidence they could do anything if they chose to!
Hopefully this is an example for smaller organisations and teams not to overlook this (for UK charities); and an example of making an administrative request fun and relevant to the donor.