CDE

project

5

sec­tion

3

: case study on Vol­un­teer Ser­vice Organisation
Written by

The Commission on the Donor Experience

Added

April 27, 2017
VSO supporter journey case study

Why a donor journey is important for us
Volunteer View is VSO's main programme for recruiting regular givers. As an international development organisation, VSO sends skilled volunteers out to work with local communities around the world to bring about long-term, sustainable change. We wanted a wonderful donor journey to make our supporters feel engaged, valued and involved in our work overseas. They might not have the ability or capability to volunteer themselves, but from their homes in the UK they could support our volunteers out in the field. We wanted our donors to feel part of the difference we make. Volunteer View is exactly that – it gives our supporters a "view" into the real life and work of a VSO volunteer.
Volunteer View also helps us to protect against high attrition. It aims to build a deeper connection between the supporter, the volunteer and the people they are helping together. This is best achieved by taking the supporter on an emotional journey and making it clear why there is a need for their ongoing support. We try to make the experience as close and personable as possible, with donors hearing from real people carrying out VSO's work on the ground. We want our supporters to feel they are really making a difference and contributing to something amazing. Engaged, happy donors who are confident in the impact of the charity and their donations will give for longer and enable us to commit to long-term projects.
What Volunteer View looks like from the donor's perspective
When the donor is first approached about donating to VSO, by a door-to-door fundraiser for example, they are told that as a regular giver they have the opportunity to be linked to one of our volunteers in the field. We generally give the donor a choice of three volunteers to choose from, each working in one of our key sectors: health, education or livelihoods. We've found that donors tend to choose a volunteer based on the type of work (if they are a teacher themselves, they will probably be interested in education), or the country the volunteer is working in (the donor may have specific interest in an area already) or on the part of the UK that the volunteer hails from (always lovely to support someone local to you!).
Once the donor signs up to a regular gift and chooses a volunteer, they are given a small thank you booklet, which tells them more about VSO as a charity and shares some volunteer stories. They also get a profile card explaining more about their chosen volunteer: problems in the country they are working in, solutions they are bringing etc.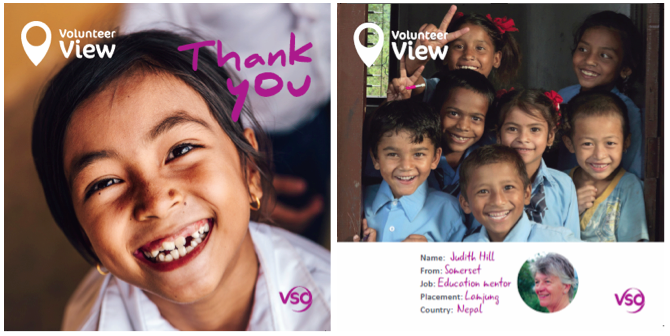 After receiving a welcome call and a formal advance notice detailing their direct debit details, regular givers who have an email address receive a personalised thank you email from their chosen volunteer. This links to a personalised, one-time watch, online video in which one of VSO's returned volunteers, news presenter Jon Snow, thanks the donor once again for setting up their gift.
The second thing our regular givers receive is an email or postcard timed to arrive one day before their first gift is taken. Both are personalised and written from their chosen volunteer. Generally, the content talks about the volunteer's preparations and expectations before travelling out to their placements: what they will miss most, what they are most excited about etc. We also encourage donors to click or visit their volunteer's blog, where they can read more and see pictures.
Just before the second gift is taken, donors receive another email or letter from their volunteer. Again, these are personalised and written just after the volunteer has arrived at their placement. They talk about their first impressions, what their new home is like, who their colleagues are and, sometimes, what strange food they have tried! Again, the donor is encouraged to link to or visit the volunteer's most recent blog post for more content and photos. We make all the text as warm and personable as possible so the donor feels connected to their volunteer and engaged in their VSO life.
With the donor's third gift they fall into our retention cycle. If they have an email address, they receive six personalised emails per year from their volunteer. If they prefer post, the donor receives three letters per year. Each communication is supported by a blog post, where the donor can read more and even send messages or questions to their volunteer – and lots do!
Volunteer and donor are connected for as long as the donor keeps giving and the volunteer is in the field. When the volunteer returns home we introduce the next featured volunteer working in the same sector and re-link the donor to them when the handover time comes.
How much our donor's love it!
Our donors really seem to love Volunteer View! Many feel closely connected to their volunteer and send messages of hope, encouragement and wonderment to them via the blogs. Here are some examples of the messages received:
"Great to hear from you just before Christmas Sam; you certainly are kept busy and I can read your blog and gain a good idea of the training you are giving to local people which is all aimed at improving standards. Well done. Hope you enjoy Christmas ... earthquakes and all!!"
"Thank you Paul for keeping me so well informed during your year and for making me feel a part (albeit a very small one) of the improvements you have made. Wishing you all the very best for the future."

"Merry Christmas Simon and a happy new year to you and yours. Hearing about your efforts reminds me that there is a wider side to life."
"Hello Paul, Habari? Thank you for your latest news, so pleased you are so enjoying your teaching and now Rebecca is a teacher and mentor, mazuri sana. My Swahili is very rusty after nearly 60 years but Tanzania will always be in my heart especially Lindi being my first posting with my husband...Kwaheri and nenda salama."