How do you say thank you for
41

mil­lion eggs?
Mari­na Jones is back with more of what you love. Fundrais­ing his­to­ry, donor recog­ni­tion, sup­port­er expe­ri­ence and thank­ing. Yes, this one has it all! Dive in to explore the many virtues of this World War One Nation­al Egg Col­lec­tion cam­paign. There's plen­ty to inspire you and your fundrais­ing, today.
Written by

Marina Jones

Added

May 03, 2023
At the start of the World War One (WWI), only 40 per cent of the United Kingdom's food was home grown, instead relying on imports from America and Europe. But in November 1914, contributor to Poultry World, Frederick Carl, proposed a scheme to send 20,000 fresh eggs to the front to boost morale.
This was the start of an international movement that saw 32 million eggs donated – an altruistic act and fundraising campaign that includes some interesting lessons still useful to fundraisers today.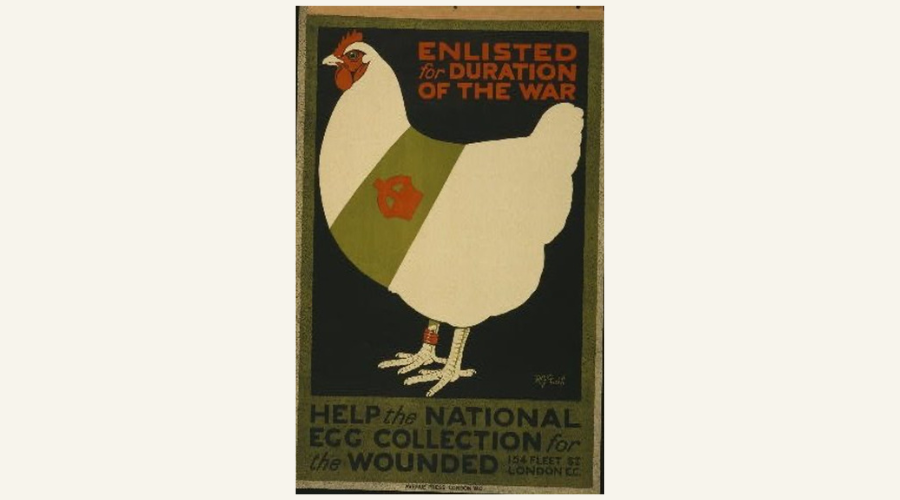 'There is no more valuable nutrient of recuperative food than a fresh egg' - The War Office
In 1915, villages across England had set up their own egg collection depots and were recording the weekly tally of donated eggs. And on January 20th of the same year, an article headed 'New laid eggs for wounded soldiers; who will help?' in the Chichester Observer and West Sussex Recorder launched the local scheme. It announced the opening of the Chichester Egg Collection Depot and that Mrs Close, the coordinator, 'hopes to find someone from each village to undertake to collect the eggs and convey them' to Chichester.
By January 1918, over 41 million eggs had been collected for soldiers and sailors – with 32 million being sent to hospitals in Europe. Poultry World even suggested that chickens should all be on active service.
What can fundraisers and campaigners learn from this egg movement?
1) Give agency and power to those that want to help
At times of crisis, people want to do something to help. They want to do something that feels relevant and useful to what is happening.
Often, we want to give something personal (see also my blog on 200 kippers and our desire to give things not cash and why that is not always best).
In WWI, donating eggs was a practical way to help – the eggs were being sent to soldiers, sailors and those recovering from injury.
The egg campaign fits into the sweet spot in the centre of this Venn diagram, created by Mark Phillips and his team at Bluefrog Fundraising, that shows what and why donors want to support. The eggs solve a problem together.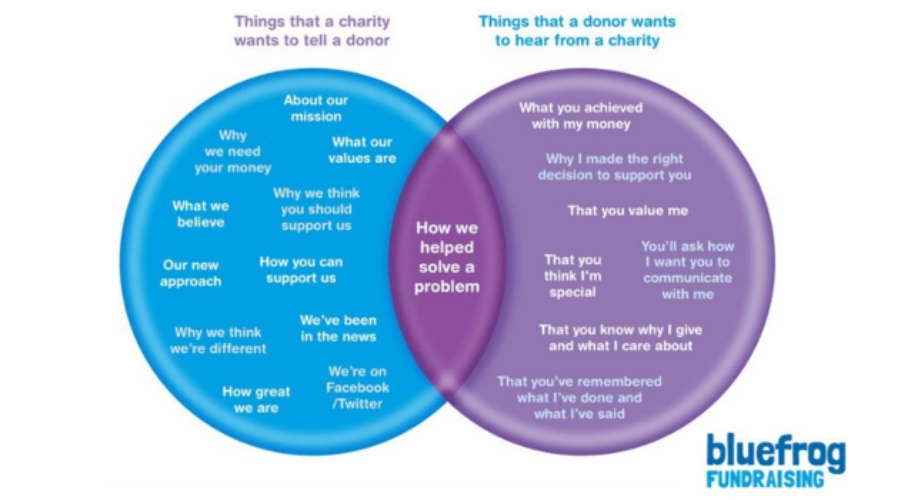 When crisis strikes it's important to consider how can our calls to action can empower people to connect with our cause. Make sure your donors know that they are making a difference and solving the problem.
2) Allow the donor to support in their own way
In this campaign people could donate eggs, but they could also donate money – the actual 'ask' was one spare egg a week or one penny. At the end of the war over £5,000 was left in the funds, so people certainly were giving pennies too.
Remember, your donors want agency and choice about what they are doing to help.
3) Consider the power of a celebrity (and royal) patron
We react strongly to who asks us to help – so consider who the messenger is. We are more likely to respond to someone we respect and trust.
Therefore, a royal patron – as a symbol of the nation during war – was the perfect messenger for this campaign.
In 1915, the National Egg Collection campaign acquired a Royal Patron, Queen Alexandra (wife of George V). Suddenly, the number of donated eggs jumped up to over one million!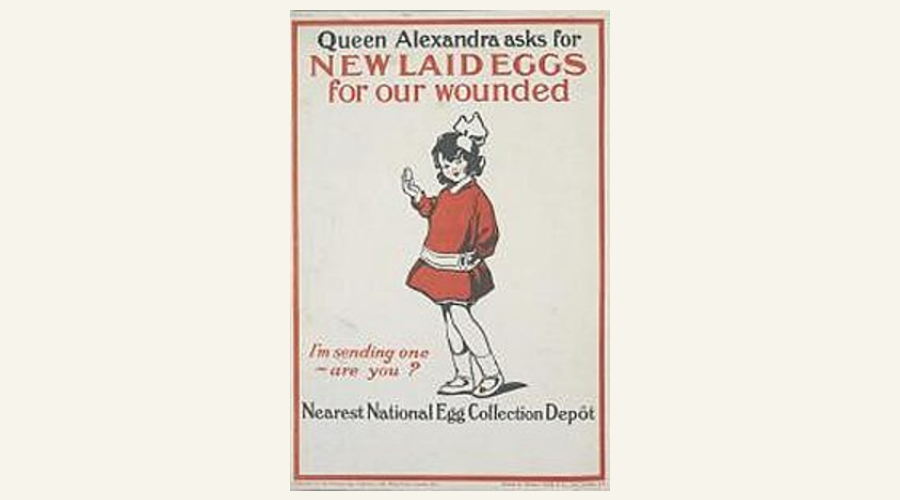 Letters of appreciation were also published from Lloyd George and Field Marshall Hague expressing gratitude for the eggs – meaning the messenger also really matters when it comes to the thank you.
Which messengers are you using in your campaigns to ask for support? Are they likeable and relatable? Do they have celebrity pulling power, or are they authentically linked to the cause? Who are the messengers for the ask? But also, don't forget to think about who ought to send the thank you message!
4) Remember the social power of giving
As herd animals we like to do what other people are doing and know what is the normal expected of us. In a functional magnetic resonance imaging scanner (fMRI) social rejection is seen to be just as painful as physical pain – so staying with the group is best.
There were egg services at church where everyone was encouraged to bring their egg donation. This uses the power of social norming – if everyone is turning up to church with an egg you will look unchristian, uncharitable or unpatriotic if you are not making your contribution.
This poster highlights the 'bring your eggs to church' element of the campaign: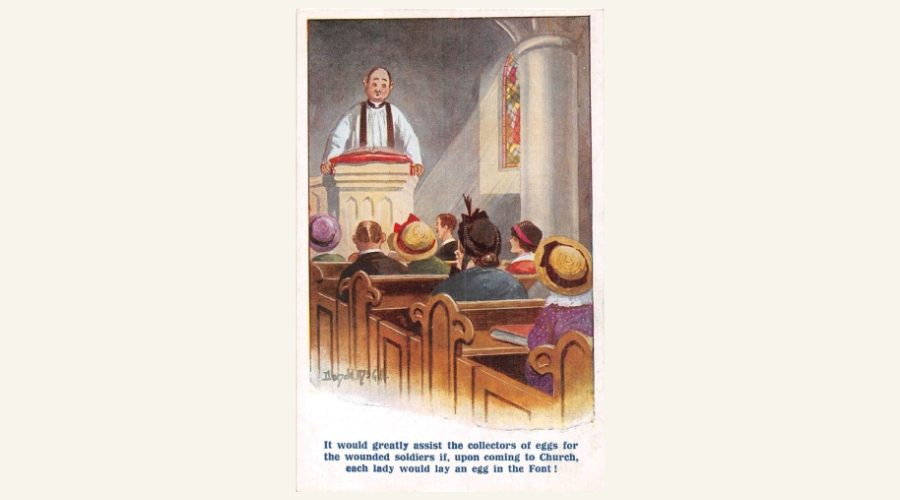 So try to think about what you can do to promote the social aspect of giving? Or show that other people, like them, are also giving in this way?
5) Make it a targeted campaign
As well as posters for churches, there were also poster campaigns targeted at children. (See the Queen Alexandra poster with the little girl in the red dress, above). The aim was to engage them as altruistic givers – and create a social norm or peer pressure to donate.
Be sure to think about how the same campaign could work if you target different segments of your potential donor base.
6) Don't forget personalisation and connection
Egg donors were encouraged to write messages on their eggs to the soldiers that they were sending them to. These became known as 'eggograms' – and sometimes got replies.
In 1915, 13-year-old Vida Sheppard in Somerset sent an egg with the message,
'Health and luck to dear Tommy Adkins, God bless him'.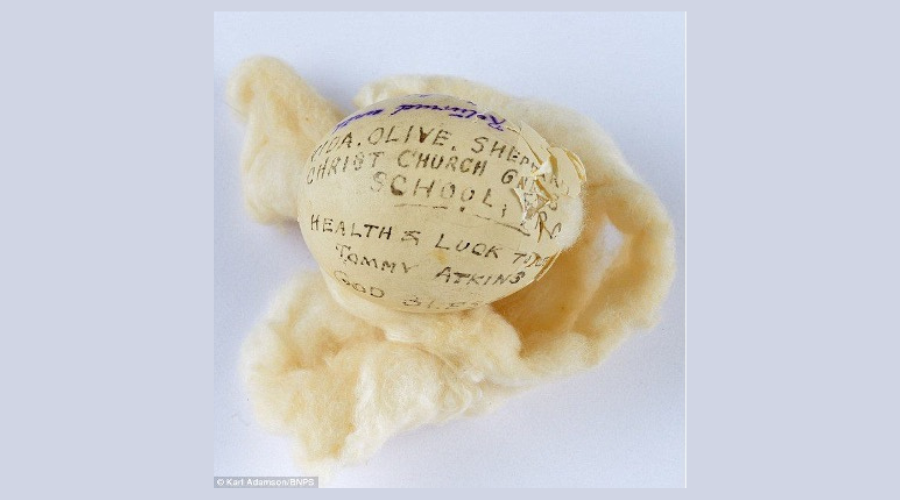 Private Devall, Royal Army Medical Corps received the egg, ate it and then returned the egg with a letter saying he had sent the egg back as a 'souvenir of this terrible war' but had 'enjoyed very much' eating the egg and 'I must conclude thanking you for your kind wishes and please accept the same from me in return'.
Vida kept the egg for the rest of her life.
After being hospitalised in a gas attack, Private McMillan (9th Argyll and Sutherland Highlanders at the Australian Base Hospital in France) received an egg from Nora Freeman, a pupil at Englefield Green Schools. He wrote back to Nora to say:
'You people in your comfortable homes have not the remotest idea what the eggs mean to us out here, to say nothing of the pleasure they give. A chap's been out in the trenches for a year, 18 months, perhaps two years; he's never seen an egg! He wakes up one morning and finds himself in a clean and comfortable hospital bed. Someone comes along with one of your fine newly laid eggs. I should just like your girls to see the delight on that fellow's face.' – credit Hatfield Parish Magazine, 1914-18 British Journal of Nursing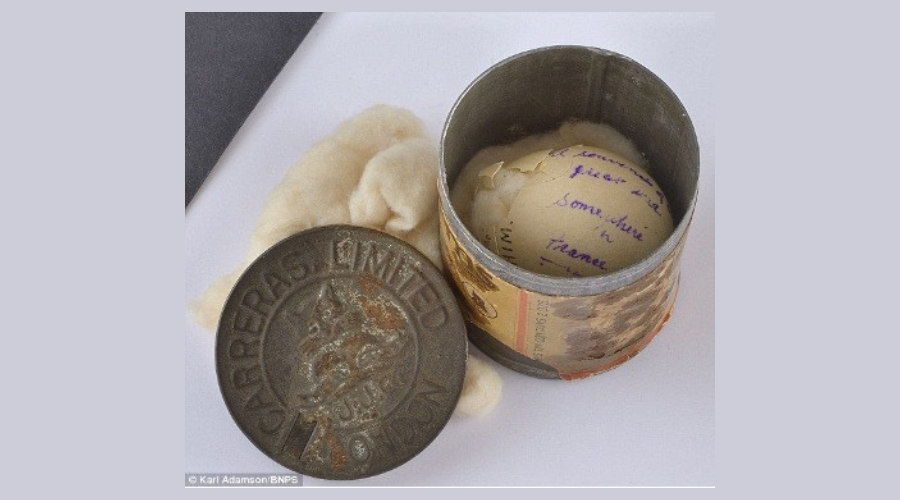 In a similar connection, I found that adding a 'tell us why you made this donation today' text box to a donor journey increased donations by 30 per cent when I added it to a campaign.
People want to share their reasons for giving with you. It makes them more connected and gives you great insight into their why (as well as, why at this time and why this campaign).
And of course, you can always create a sense of urgency – in the egg campaign there was also 'autograph an egg' wee to help drive donations too.
How can you build a real connection between donors and beneficiaries?
1) Remember donor recognition
Showing donors that the donation has been received and has had a positive impact on those that need it, is important. It builds connection, trust and encourages an ongoing philanthropic relationship.
For the National Egg Council there were flag days where people could buy small flags (like pin badges) or ribbons to wear and show their support.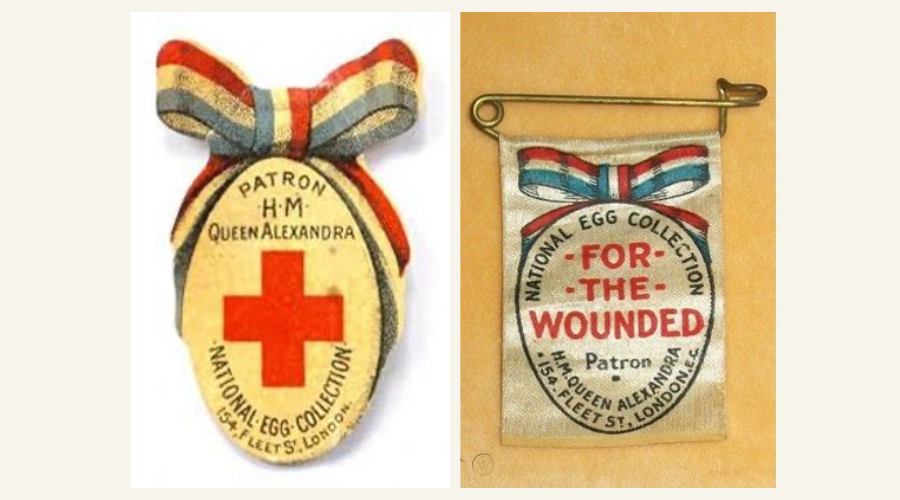 The importance of a visual way to show support of a campaign is a useful one. We still have badges, stickers, bracelets or poppies and social media banners now to show support of campaigns.
But how do you recognise and thank millions of people who have donated over 41 million eggs?
Well, in order to make those who altruistically and patriotically were part of a campaign feel valued and connected, The National Egg Council found a solution. They printed Certificates of Honour recognising the 'valuable services rendered in the collection of eggs for the wounded soldiers and sailors in the Great War'.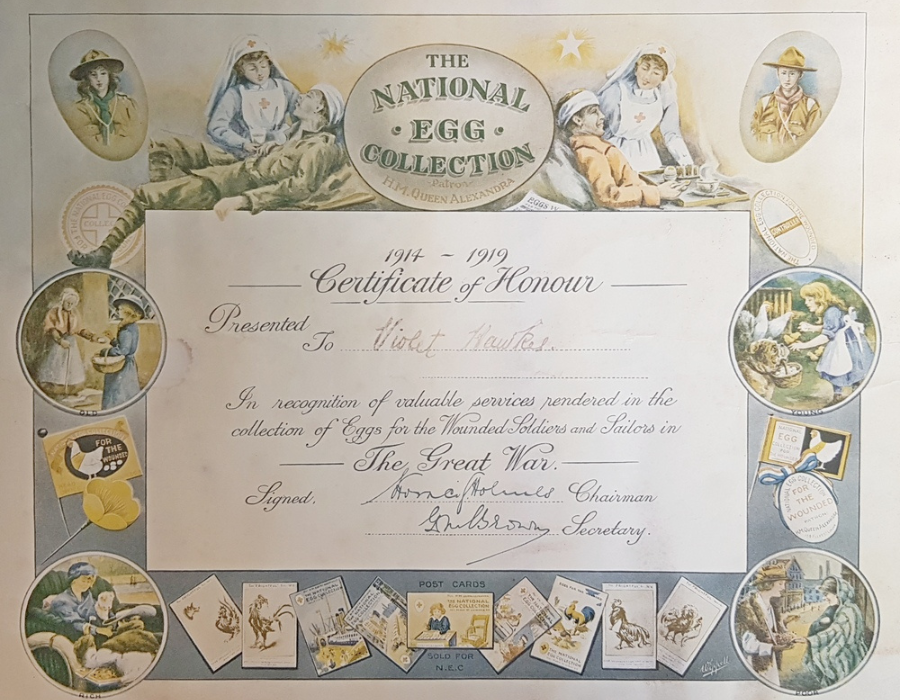 The newspapers also reprinted the letter of thanks and appreciation from Field Marshall Hague. Specifically, it was 'reproduced in facsimile upon paper suitable for framing' so everyone could have their 'cut out and keep' thank you letter.
Donors don't need fancy and expensive recognition – they want to feel appreciated and connected to the cause and valued for their contribution. How are your thank you letters and recognition programme building that sense of connectedness and community?
2) Activate your supporter's identity
The national egg campaign used emotive and patriotic language evoking their patriotic duty to help.
'Do your duty by the wounded men. You cannot eat eggs and feel that the wounded are going without.'
'There is no substitute for eggs in maintaining a man's vitality, hastening his convalescence or even in preserving life.'
This patriotic and emotive language might not resonate as strongly today, but we can activate our supporters' identity – as a parent, as a campaigner for justice, as a lover of the arts. Or we can look at activating their national, regional or even more local identity – as can be seen by the competitive element also introduced in the campaign.
3) Make it a competition
A certain amount of inter-village rivalry can be seen when they published the number of donations of eggs by each village in the local papers – because people want to be seen to do good (and perhaps even more good than their neighbours).
A letter from a Mr W E Humley in the Chichester Observer publicly shamed the people of Bognor for not donating as many the people of Chichester. The letter clearly had an effect and the Bognor egg donations went up, creating a friendly rivalry between the Chichester, Westbourne and Bognor communities. Each one wanted to be seen as the most generous, of course.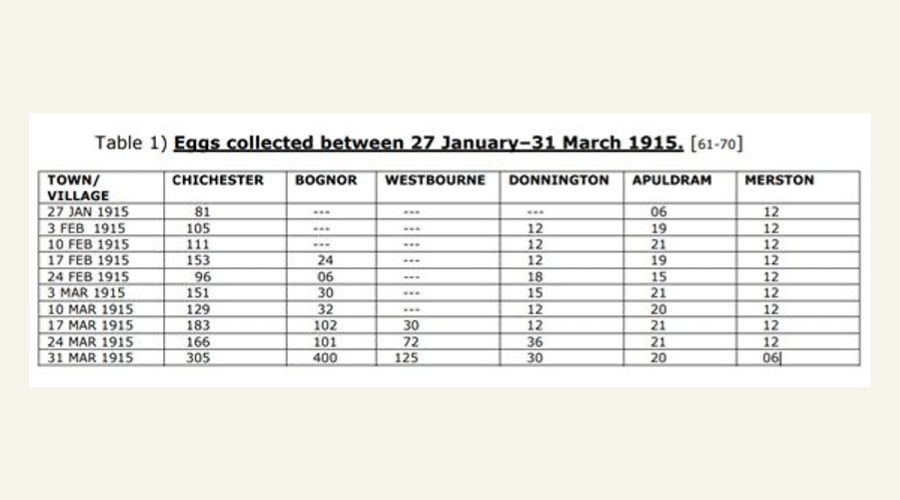 Remember, humans are competitive – so consider how you can harness that competitiveness for good in a campaign.

4) If it works once, it can work again
The egg collection scheme was repeated in World War Two (WWII) with high school students collecting eggs in Australia. If a campaign is successful, you can always repeat it. But remember to learn from it, and don't just keep doing it forever. Do it because it is needed and it works.
So when planning your next fundraising campaign, think about…
how can your donors solve a problem that you both care about
the messengers for your campaign
the social norms you want to create
how you trigger important identities to your donor
how people can show their loyalty (badges, ribbons, bracelets)
Using competition to encourage donations
how to make it personal to the donor – how can they share their why and their story
letting the donor know that the gift has been received and see the impact it has made
how will you say thank you