CDE

project

10

appen­dix

1

: Remem­ber a Charity
Written by

The Commission on the Donor Experience

Added

April 20, 2017

The following case study has been taken from SOFII. The case study illustrates an insight-driven and donor-led campaign.
From 8-14 September 2014, the Remember a Charity consortium ran its annual awareness week to encourage more people to consider leaving a gift to charity when writing their wills. The campaign was marked by a documentary film, in which three inspirational grandparents shared their remarkable stories to remind the nation that anyone can become a living legend by including a charity they care about in their wills. Over 100 of the nation's favourite charities were involved in supporting the awareness week and in generating discussions about legacies internally with colleagues and externally with supporters.
Remember a Charity provided member charities with a range of toolkits to enable them to have conversations about legacies. The kits included a handbook on marketing, which provided information about the materials available to help charities raise awareness of legacies among their internal teams, in charity shops and when speaking externally to supporters. Charities were provided with PR guidelines outlining how they can support the campaign and amplify the week, as well guidelines on retail and digital and social media, and how to increase the campaign's reach. Other assets provided to member charities included a teaser film and full documentary film, posters, logos, copy and posts on social media.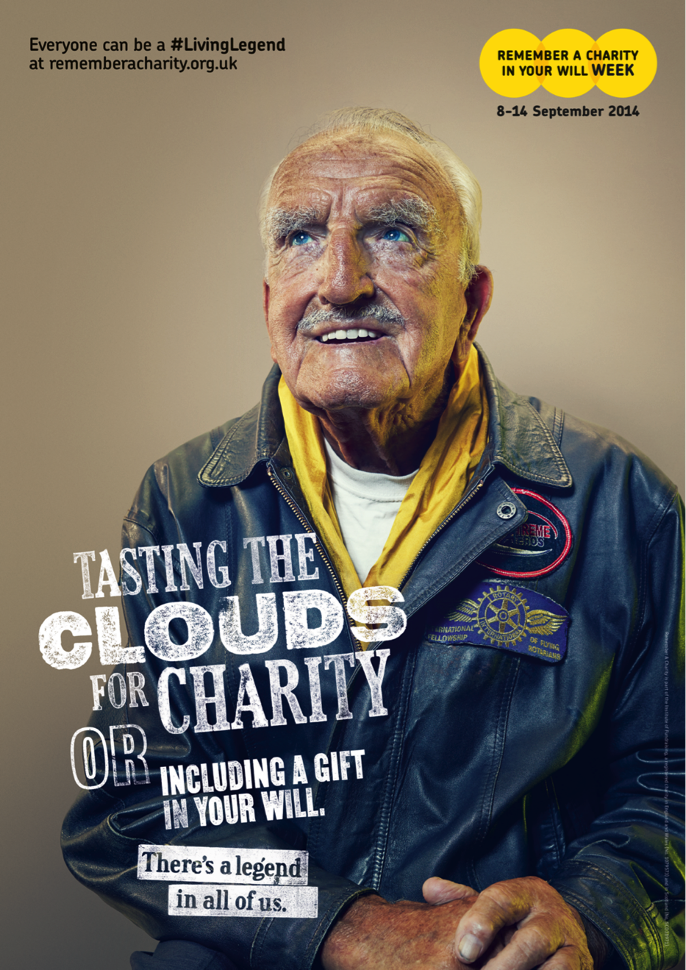 Charities took part in the week by displaying Remember a Charity Week posters, bookmarks and chocolates in their charity shops as simple talking points for legacy discussions. Many ran direct mail campaigns, as well as engaging on social media platforms and dedicating an area of their website to the campaign.
The campaign proved to be a powerful way for charities to create conversations around the topic of writing a will and legacies. By using light-hearted and emotive tones to communicate a sensitive subject, members of the public were encouraged to talk openly about legacies. The 'living legends' theme was highly accessible and allowed the consortium's members to adapt it to their audiences. Charities found their own legends to promote on-line, internally to their teams and in charity shops across the country, ensuring the campaign reached a wider audience and supporter base. The campaign enabled charities to connect with people emotionally because of the strength of the message that 'there's a legend in all of us'. Remember a Charity utilised free channels, including charity shops, social media, referral links with websites and support from Clear Channel Outdoor to increase awareness of the campaign.
The Remember a Charity website saw the highest traffic in the campaign's history, generating a 40 per cent uplift in website traffic compared with the previous year. Twenty-five per cent of people visiting the website went on to find details about their local solicitor or a charity they cared about, and to which they would like to leave a gift. The campaign reached more than five million people on social media, including support from high-profile figures such as Lord Sugar (UK businessman, media personality, inventor of the catchphrase 'you're fired' and political advisor).
The week also resulted in tangible legacy gifts. A member of the consortium had a legacy gift pledged off the back of Remember a Charity Week's campaign in the charity's shops. The Cabinet Office and key partners, including Legal & General, the Law Society and the Co-operative promoted the week via social media and to their staff, and it was widely promoted by solicitors. Extensive national media coverage included The Independent, Mail on Sunday, The Times, Daily Mirror on-line and The Mail Online. The PR and advertising campaign reached millions of people.