CDE

project

3

sec­tion

1

: actions and approach
Written by

The Commission on the Donor Experience

Added

May 05, 2017
Actions
We believe that it is essential to measure the emotional loyalty that donors feel if you are serious about improving the donor experience. We have outlined five steps to follow to achieve this goal.
1. Commit to growing donor loyalty by delivering a better donor experience.
We haven't just said 'offer a better experience'; we've said that you should do this to 'grow donor loyalty' – that is the aim.
Understand that making donors feel good about supporting you is good for them and good for you, as it will help you raise long term income.
There is a growing body of evidence that making your donors feel good about giving to you leads to longer term, more valuable support.
2. Find out the emotional results that donors value and want from you
Keep it simple, so discover what is most important to your donors and focus on that.
There is no substitute for knowing why donors give and what they need or want from you.
See CDE project 6 – The use an misuse of emotion.
3. Measure how they feel
Once you know what your donors value, measure how well you deliver.
This is not about stopping your existing measurement of response and income, but building on it to understand how your communications (especially fundraising) influence how donors feel about you.
4. Report it
You should report your findings. By telling colleagues (as many people as possible), you will grow understanding of what donors need, share your commitment to giving them a better experience and increase colleagues' confidence to invest in actually delivering it.
5. Use this learning to change something. Test it and measure again. Keep improving.
Once you have measured donor feeling, decide what you think you need to do better and test something different – anything! – and monitor changes in both how the donors feel and how they behave.
Approach
Tackling the biggest problem with fundraising today – our focus on short-term KPIs
We believe that an obsession with short-term financial KPIs is the single biggest reason that donors are dissatisfied with the way charities fundraise. Any attempt to grow long-term donor loyalty plays second fiddle behind maximising the response rate to the latest appeal or reaching the target for income and new donors by the 31st March.
We believe fundraising is not just about generating an immediate donation. Chasing responses and short-term income (and rewarding ourselves when we get them) incentivises us to follow ever more aggressive fundraising techniques, often making donors feel pressured, uncomfortable and dissatisfied, thereby putting their long-term loyalty and value at risk.
Emotional engagement
We've always known that we need to know how successful (or otherwise) each and every activity is in terms of response rate, average donation, net income or number of donors etc. Indeed, it is one of the strengths of our sector that we strive to calculate the cost-effectiveness of every pound we spend.
Some of the better charities also measure a donor's value over time – their 'life-time value'. This is a massive step in the right direction and can help charities move from:
Measuring response rates today to retention rates over time
Measuring today's donations to forecasting future value
Measuring effectiveness of individual activities to measuring the value and performance of different donors or segments
Three things influence how long someone will give to us, and we can measure the first two through transactions.
The method of payment the donor uses has the biggest impact, which is why we have been chasing regular giving for so many years.
Related to this concept is the 'product' through which someone gives. For example, membership has the concept of renewal built into it – something that encourages repeat support even if the donor is not paying by direct debit.
Fundraising is not just about transactions. The third factor is how loyal the donor feels to you and how committed they are to your cause.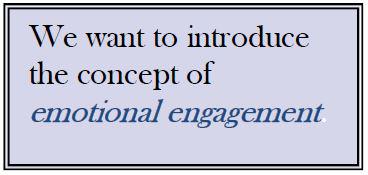 For too long, we have confused this last point with the first two, believing that a direct debit is a sign of emotional commitment, when in truth, it can leave some donors cold as we take these donors for granted or the donor feels less need to engage with the charity.
Fundraising is about the emotional connection a donor feels for the charity – the way they feel about giving to us. And if we obsess about their transactional engagement with us, then we overlook something far more important in the long run – their emotional engagement.
The donor experience is at the core of this emotional engagement. It is the experience that drives their satisfaction, their loyalty and their commitment.

There can be little doubt that giving donors a better experience and making them feel good about giving to us should be an integral part of our fundraising strategies. This isn't just a 'nice to have', or even just the 'right thing to do'. It is also good for business because, as a growing body of evidence shows, happy donors give more for longer and tell their friends and families.
As we develop our fundraising strategies and seek to grow emotional engagement, we must set this as a KPI that the organisation values.
Measure the money… and measure feelings
This report is not suggesting that we stop measuring income and cost-effectiveness. Quite the opposite! We are suggesting that this isn't enough – we have to learn how our donors feel about us and, importantly, how our communications make them feel. After all, the way we make our donors feel with our communications today will affect how our donors engage with us and give to us tomorrow.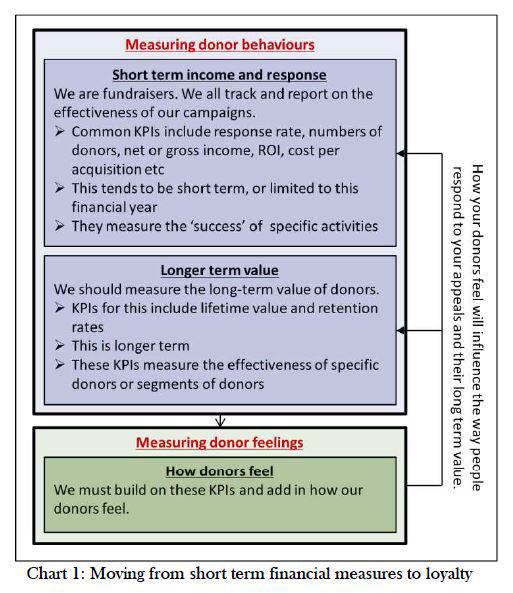 This is not just a paper about KPIs

This section may be called Measurement, but it's actually about culture, strategy and people. What you set as your targets will reflect and drive your culture. They will lead your strategy and your decisions about where you invest in donors, as well as how your people think and behave.
By setting KPIs around satisfaction and loyalty, you will start to change your charity's culture, strategy and behaviours.
Setting measures for how you want donors to feel about giving to you will define a new way of working in every area. The outcomes should inform your decisions, your strategy and your behaviours in many of the areas picked up in the other Commission on the Donor Experience projects: